More hats
I have been knitting more hats.  I think I am becoming quite addicted.
This one is from a Let's Knit magazine.  I have made a ravelry project page if you want to look up the details.  It is my first attempt at Fairisle and I am really pleased with the results – it came out exactly as I wanted.  It was a great introduction to fairisle as none of the colours were more than three stitches away, so it was relatively easy and I didn't get in too much of a tangle.  It was a rectangle, sewn together along the short sides.  It doubles as a hat and a scarf, so it super handy.  My son named it 'the scat' as it is a cross between a scarf and a hat.  You just undo the cord and pull it down around your neck.
I made it with this scrumptious yarn from White Rose Alpacas.  This is a lovely family run local alpaca farm.  I love that my yarn was 'grown' just a few miles away.
The next hat was for my husband.  I was looking for the perfect pattern for my Triskelion Aran Weight Yarn.  I looked at HUNDREDS of hat patterns on ravelry, but finally decided on The Hat Most Likely to Succeed.  I fancied doing some cabling as I haven't done any for years. The yarn was unbelievable.  So soft and plump and a complete joy to knit with.  The pattern was simple to follow, but the finished result looks fantastic.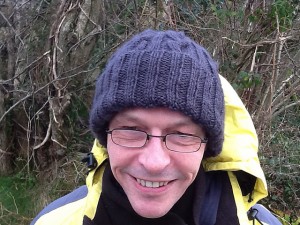 I always think of myself as a novice knitter, but after completing these two hats I am finally beginning to believe that I can really knit!
Kx