Workshops til Christmas …
It always seems like I have three new years every year.  One is in January, the traditional New Year.  The second one is the beginning of the financial year in April.  The third is this time of year – September.  At the end of the long summer break it is time to get back into a routine.  Kids go back to school and college and the crochet classes and workshops start again.  I like it.  I like the planning and organising after six weeks of going with the flow.  I enjoy getting things in order again.
I have got lots coming up between now and Christmas.  I have my brand new Fat Bottom Bag workshop.
Coming up after that is a re-run of the crochet rugs workshops I started before the summer.  It is a great opportunity to upcycle any old bedding – sheets, duvets, pillowcases, curtains – into a fantastic crochet rug.
And also my new workshops, the two part Introduction to Crochet, which are replacing the Learn to Crochet in a Day for a trial period.  I am always excited about teaching complete beginners.  It is fun to see them getting to grips with a new skill.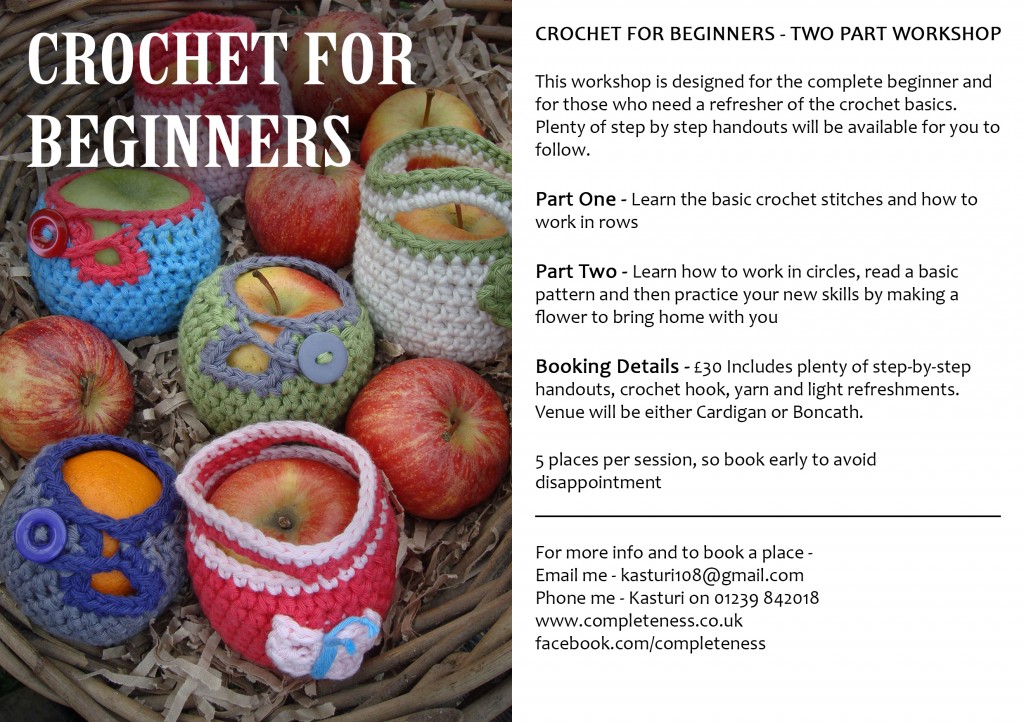 There will also be a Christmas Stocking workshop in November.  I haven't written the pattern for it yet, so I had better get into action soon.  I want people to have the opportunity to either knit or crochet, so have to get cracking with the samples as I have given myself double the work.
As well as my regular Learning Pembrokeshire class on Thursday mornings in Crymych I am also starting a new weekly class on Thursday afternoons.  These will be held in St Dogmaels.  Please check the Learning Pembrokeshire website, or send me an email if you fancy coming along.
Finally, there are always the drop in crochet clinics on the first Saturday and Wednesday of every month.
All in all I think there should be plenty to keep the Cardigan Bay Crochet Crew going!
Kx