Banana Choc Chip Muffins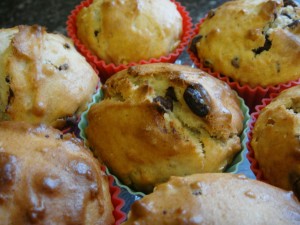 This recipe only takes a few minutes to prepare and makes 12 large size muffins.
They are firm and springy in texture and taste delicious.
Click here to download the PDF
Ingredients
Wet
1/3 cup sunflower oil
1 & 3/4 cups mashed bananas
3/4 cup sugar
Dry
2 cups plain flour
1/2 cup oats
3/4 tsp baking soda
3/4 tsp baking powder
1/2 tsp salt
1 packet (100g) choc chips
Method
Beat the wet ingredients together in a small bowl.
Mix the dry ingredients together in a big bowl.
Pour the wet ingredients onto the dry ingredients and mix together thoroughly.
Spoon the mixture into 12 muffin cases and bake in the oven gas 4 / 180c for 20 – 25 minutes, until golden in colour. Test in the middle with a cake tester or sharp knife, which should come out clean.