Cheese and Marmite Scones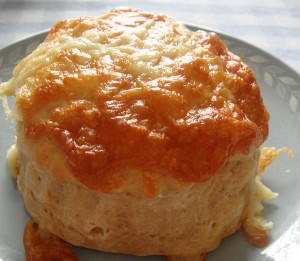 These are quick and wholesome.
Great with soup and scrumptious served warm with a generous smothering of butter!  This recipe makes about a dozen scones.
Download Cheese and Marmite Scones Recipe (PDF)
Ingredients
3 cups plain flour (or a mixture of plain and wholemeal)
2 tbsp baking powder
1/2 tsp salt
2oz butter
2oz cheese
1/2 pt milk (approx)
3 tsp marmite (or to taste)
Method
Put the flour, baking powder and salt into a mixing bowl or food processor.
Add 2 oz of butter. If rubbing in by hand it makes it much easier if you grate the
cold butter first. If using a food processor just pulse until the butter is incorporated into the flour.
Warm the milk in a saucepan and add the marmite. Stir thoroughly until the marmite has completely dissolved and the milk is now a brownish colour.
Add almost all of the milk/marmite mixture to the flour mixture and bring together into a ball, either by hand or food processor. The scone mixture should be a fairly wet dough.
Roll out onto a floured work surface until about 1 inch thick, then use cutter to cut into shapes.
Use a pastry brush to brush the left over milk/marmite mixture onto the top of the scones and then top with grated cheese.
Bake for about 15 mins at gas 7, 200 c, until golden and scrummy looking.