Uncle Mick's Elderflower Cordial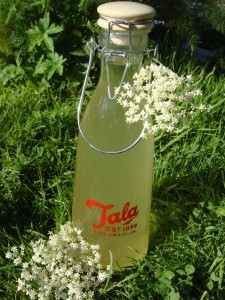 The perfect recipe for making tasty and refreshing, homemade elderflower cordial.
Includes ingredients listing and method explaining how to make it.
There's a bit on the blog about this cool cordial.
Download Elderflower Cordial Recipe (PDF)
Ingredients
3 pts (1.7 litres) boiled water
3.5 lb (1.6kg) sugar
2 oz (55g) tartaric acid or 2tsp citric acid
2 lemons, sliced
20 – 24 elderflower heads (dont wash, just shake)
1 campden tablet (optional)
Method
Dissolve the sugar in the water then cool.
Add rest of ingredients and stir periodically for 24 hours.
Strain through muslin and bottle. Keep refrigerated once opened.
Dilute to taste with water, or sparkling water, for an extra pizzazz!
Note
If you want the cordial to last more than a couple of weeks then you can sterlise the
bottles before using and also add a campden tablet to stop it fermenting. Alternatively store in the freezer
Please make sure you are picking Elderflower flowers and not anything else! There
are some other plants that look similar. If you are unsure please check identification
in a book or search the internet. The best time to pick them is on a dry day in June
when the flowers are dry and full of pollen. Use as soon after picking as possible.