Kate's Amazing Gooseberry Sauce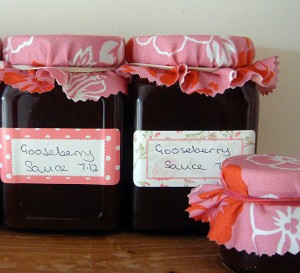 This Gooseberry Sauce is wonderfully versatile.
Use it in sandwiches, as a chutney or pickle, or simply as a dip when dinner looks a bit boring!  It is tangy and reminiscent of 'brown sauce' from the supermarket.
Includes ingredients listing and method explaining how to make it.
Download Gooseberry Sauce Recipe (PDF)
Ingredients
1kg gooseberries, top and tailed
2 cups vinegar (cider or 'white' vinegar)
1.5kg brown sugar
1 tablespoon ground allspice
1 tablespoon ground cloves
1 tablespoon ground cinnamon
Method
Top & tail gooseberries.
Put all ingredients in large pan, bring to boil, simmer slowly uncovered for around 2
hours.
Blend in blender/with hand blender to give a thick puree.
Pour into hot clean jars & seal.
Note about sterilising bottles and jars
It is a bit daunting for the novice when you hear about sterilising jars and it can put
people off. All this really means though is that you have to wash the jars or bottles
in hot soapy water. Rinse thoroughly and then put into the oven on its lowest setting
(I use gas 1/2) for about 20 minutes. While these are in the oven warming I boil my
metal lids in a saucepan of boiling water for 10 minutes. Easy!!
Simply fill up your warm jars with the hot sauce when it is ready. I usually let the
sauce cool and then put the lids on. This avoids any condensation forming on the top.
Happy preserving!