Last year – 2014
It has been so long since I wrote a blog post that I am going to do a quick catch up. I have been so busy doing things that I haven't had time to write about them!
Last January I decided I would spend the next year clearing the clobber and sorting out my 'stuff'.  I am glad to report that it has been very successful.  Bags of stuff and clutter have disappeared and in their place is a relatively tidy and surprisingly pleasant place to work.
I painted my little computer cupboard and put it in the corner of my room.  It holds the computer, printer, books and sewing machine.  I will let you have a peek inside one day…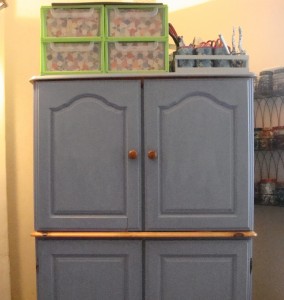 The IKEA shelving unit has transformed and I am in the process of crocheting boxes and baskets and curtains for the spaces that currently just have plain old cardboard boxes.  I am trying out different techniques for each section, so hopefully it will be a kind of useful gallery space.  I have even made space for the paper roses that I made last year.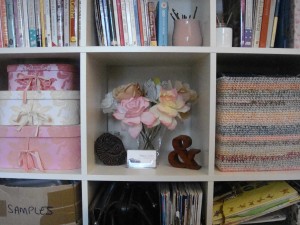 As well as sorting out my personal space I spent a lot of time last year running my classes and workshops.  They are getting more popular every year and I am so lucky to be able to spend time with such wonderful creative, supportive and enthusiastic women.  I now have five regular classes in Cardigan, St Dogmaels, Crymych and Drefach Felindre and lots of workshops in between.
The 'Crochet 'Crew' achieved so much crochet together that I am going to make a new gallery on this website to put the pictures of all their wonderful work.  It will be up and running soon, so keep your eyes peeled.
I just want to finish off with a personal 'thank you' to everyone who has helped and supported me over the last year.  You have been wonderful, kind and generous.  I can only keep teaching as long as you keep coming to the classes, so Thank You for coming!  Also a massive thank you for my Christmas presents (and gifts throughout the year) – you know who you are you lovely people…
Kx